Stewards of Vermont's Northern Forest for Six Generations
Currier Forest Products offers timbers, flooring, lumber, wide boards and exotic specialty woods for builders and timber framers, architects and interior designers, furniture makers and luthiers, boat builders and historic preservationists – all sustainably harvested and custom milled in Vermont's Northeast Kingdom.
Lumber
Native hard and softwoods.
Extra wide and long boards.
Green Vermont Flooring
Sustainably harvested.
Specializing in Tamarack.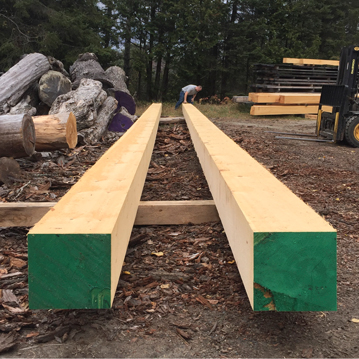 Timbers
Up to 60 feet long.
Up to 24 inches deep.
Working with Currier Forest Products.
Selected, cut or milled for your special project.
Working with Currier Forest Products may be different than what you're used to! We have a large inventory of standing timber which we carefully select from and mill to meet the specific needs of your project.
That's why you don't see the typical selection of dimensional lumber stocked on the shelf — or a fixed price list — on our website. We're here to serve you. Call Joel or email us with specifications for your project.
Do you need book matched grain for a spectacular table top? A special piece of spalted maple for a turned bowl? Extra wide or extra long boards? Live edge planks? A special profile for flooring, trim or siding? Depending on your requirements we will select, mill and finish your order… To order! If we don't have the raw materials ready at the mill, we can even sustainably harvest the wood products you need.
Shou Sugi Ban
Make a dramatic statement with our Night Owl Char.
Spalted Wood
Our distinctive, contemporary specialty woods.
Historic Restoration
Flooring, paneling, wainscoting, timbers and ship masts.