TIMBERS CUSTOMIZED FOR ALL BUILDING PROJECTS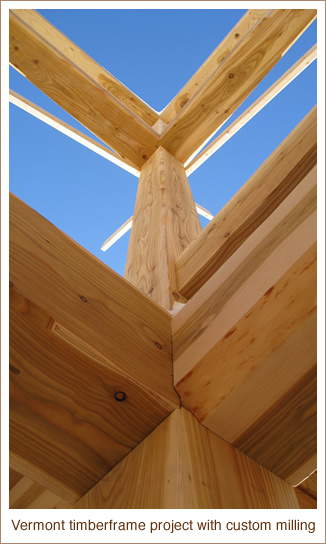 The woodwork that makes up a timberframe is designed as much for its handsome, graceful composition as for its strength and longevity.
We produce timbers from a variety of species, but most commonly spruce and Eastern White Pine. We also can produce a variety of special sizes, with some timbers available up to 60 feet long. We can also produce timbers up to 24" deep for both aesthetic and structural purposes. We can custom shape timbers if needed for specialty purposes such as ships spars, masts, and creatively designed construction projects. Regardless of the use, we will ensure that any size or dimension you need for your timber project, we will ensure that it is accurately square.
We understand that craftsmanship and integrity are key ingredients in building with timbers. Our timbers embody strength, longevity and beauty which shine through from the raising day through the life of your timberframe.
We can customize every part of the project for you. We also offer delivery services.